Overview
Stockport's Town Centre West is set to become Greater Manchester's newest, greenest, and coolest affordable urban neighbourhood.
History and nature set a great context for streets and buildings to quickly establish a distinctive urban environment and a truly sustainable place to live. 
Town Centre West will be a walkable neighbourhood at the heart of things.  It will provide a choice of homes and workspace.  Residents and business will have enviable access to public transport and be amongst the best connected in the region. 
This will be a place of quality in all aspects of design, enhanced with the river, parks and access to open country.  A place where you can shape your future; a place to work and to live.  A safe, healthy and attractive part of town. 
We want this to be the benchmark in town centre living and a jewel in the crown for Greater Manchester.
To create a new green urban village, the Greater Manchester Mayor has decided to consult on the creation of a regeneration company called a Mayoral Development Corporation. 
"Reversing the decline of towns in Greater Manchester is a big prize and we recognise that it will not come with an old-fashioned piecemeal approach to town centre development. We need to help councils galvanise partners around a shared masterplan and use new powers to make it happen. The great attraction of Mayoral Development Corporations is that they simultaneously allow us to tackle two big problems - town centre decline and the housing crisis. It provides an integrated solution."

- Andy Burnham, Mayor of Greater Manchester.
What is a Mayoral Development Corporation?
A Mayoral Development Corporation (MDC) is a statutory body created to bring forward the regeneration of a defined area.  They have powers to acquire, develop, hold, and dispose of land and property.  They also have powers to facilitate the provision of infrastructure. 
In Greater Manchester, we have developed a model that would allow us to harness the potential MDCs have to bring about large-scale regeneration while ensuring they fit with our unique local circumstances and don't create major additional bureaucracy. 
If endorsed through this consultation, the Stockport MDC would see the creation of a Board to provide overall direction with a smaller staff structure made up mostly of existing staff seconded from Stockport Council (and potentially other partner organisations).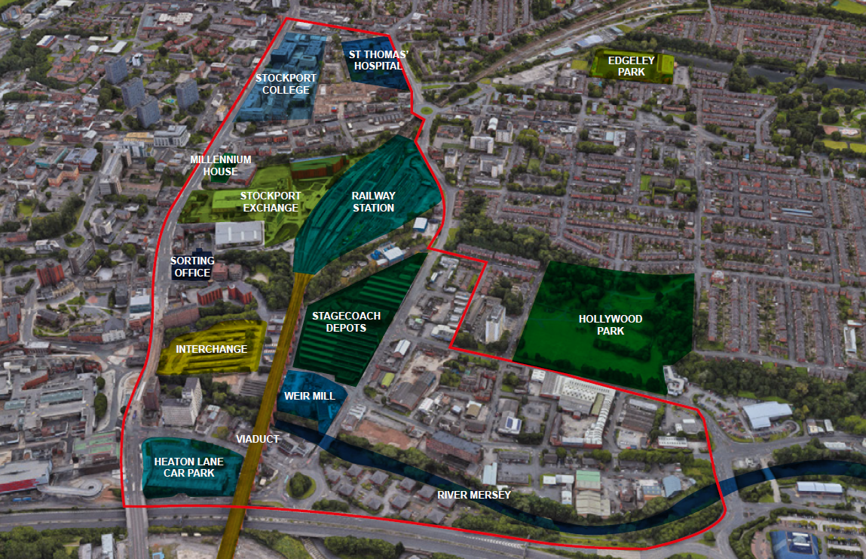 Why your views matter
We believe that a Mayoral Development Corporation has the ability to make the potential of Stockport's Town Centre West a reality. But we want to make sure that everyone with an interest in the area has had the chance to provide their views on the MDC idea.
This consultation is specifically about creating an MDC to be the main regeneration organisation for the area.  It will be followed in spring 2019 by a public consultation on the Strategic Regeneration Framework (SRF) that Stockport Council is preparing for the area. 
In this way we will recieve public comments and opinions on both the merit of creating a dedicated regeneration organisation and, at a later date, on the detailed masterplan proposals in the SRF.
Our preference was to recieve feedback via this online platform to repond, but a postal addfress was also given for people to respond.