Overview
Greater Manchester is the first city-region to consult on a proposed bus franchising scheme.
Buses are vital for Greater Manchester. They're used for three-out-of-four public transport journeys and thousands of us depend on them to get to work, the shops or services like our local GP.
But bus use is falling.
Currently in Greater Manchester, individual bus operators decide their own routes, timetables, tickets and standards. In areas they don't run, the public sector pays to fill in the gaps in the market where it can.
It's hard to make our buses work together, or with other kinds of public transport, and the fares and tickets available can be confusing.
Buses can be improved and Greater Manchester now has a chance to do buses differently.
We are proposing a franchising scheme for the whole of Greater Manchester.
This would mean that bus services would be under Greater Manchester's control and they would decide which services would be provided - like the way buses are run in London and some other major cities around the world. We would set the routes, timetables, tickets and standards, while the bus operators would run the services.
This would allow buses to work better with the rest of our public transport – as part of Our Network– Greater Manchester's vision for a joined-up transport system.
We are now consulting on the proposed franchising scheme so you can share your views.
Why We Are Consulting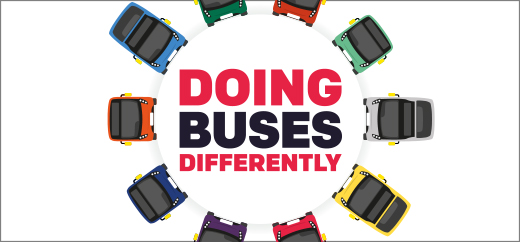 CONSULTATION DOCUMENT
ASSESSMENT
SUPPORTING DOCUMENTS
WHERE TO FIND PHYSICAL REFERENCE COPIES
The consultation is about how we think buses in Greater Manchester should be run in the future and whether the proposed franchising scheme should be introduced. The consultation questions are about the proposed franchising scheme, which is how we propose bus franchising would work in practice.
There are a number of ways that people can take part in the consultation. You can chose to complete the short or long questionnaire. You do not have to respond to every question. Or if you'd prefer, you can decide to send an email or letter with your comments instead.
Responses will be accepted through the following channels:
Complete and submit a questionnaire below.

Email a completed questionnaire or your comments to gmbusconsultation@ipsos-mori.com

Post a completed questionnaire or your comments to Freepost GM BUS CONSULTATION

Questionnaires are available in public buildings throughout Greater Manchester or can be downloaded.
If you need to respond in a different way, or require the consultation materials in a different format, please contact gmbusconsultation@greatermanchester-ca.gov.uk or call 0161 244 1100 to discuss your requirements.
We are holding events across Greater Manchester so people can learn more about the consultation. They are listed below in date order. There are two types of events:
Public Information Events - Where you can fi

nd out about the consultation and how you can give your views.

Public Drop Ins -

Come along, at any time, to discuss or ask questions about the consultation.