Overview
Greater Manchester is the first city-region to consult on a proposed bus franchising scheme.
Buses are vital for Greater Manchester. They're used for three-out-of-four public transport journeys and thousands of us depend on them to get to work, the shops or services like our local GP.
But bus use is falling. 
Currently in Greater Manchester, individual bus operators decide their own routes, timetables, tickets and standards. In areas they don't run, the public sector pays to fill in the gaps in the market where it can.
It's hard to make our buses work together, or with other kinds of public transport, and the fares and tickets available can be confusing.
Buses can be improved and Greater Manchester now has a chance to do buses differently.
We are proposing a franchising scheme for the whole of Greater Manchester.
This would mean that bus services would be under Greater Manchester's control and they would decide which services would be provided - like the way buses are run in London and some other major cities around the world. We would set the routes, timetables, tickets and standards, while the bus operators would run the services. 
This would allow buses to work better with the rest of our public transport – as part of Our Network– Greater Manchester's vision for a joined-up transport system.
We are now consulting on the proposed franchising scheme so you can share your views.
Why your views matter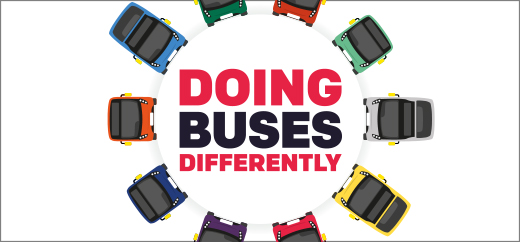 CONSULTATION DOCUMENT
ASSESSMENT
SUPPORTING DOCUMENTS
WHERE TO FIND PHYSICAL REFERENCE COPIES
The consultation is about how we think buses in Greater Manchester should be run in the future and whether the proposed franchising scheme should be introduced. The consultation questions are about the proposed franchising scheme, which is how we propose bus franchising would work in practice.
What happens next
This consultation closed on Wednesday 8 January at 11:59pm.
Ipsos MORI is analysing the responses and developing a consultation feedback report, which will be published alongside the GMCA's response to the consultation.
The Mayor of Greater Manchester will then make a decision as to whether to introduce the proposed scheme. This is currently expected to take place in early 2020.