Overview
The Greater Manchester Co-operative Commission has been established by the Greater Manchester Combined Authority (GMCA) to be a driver for developing co-operative activity across the city-region and to explore how co-operative methods can help to solve existing issues facing the city-region.
The Commissioners sit as an independent panel, and will make policy recommendations to ensure that the GMCA is drawing on the benefits that co-operatives can bring to our city-region.
It is anticipated that the Commission will encourage greater collaboration within the co-operative sector and contribute to the achievement of the ambitions of the Greater Manchester Strategy - to make Greater Manchester one of the best places in the world to grow up, get on and grow old - and to be one of the most co-operative places in the UK.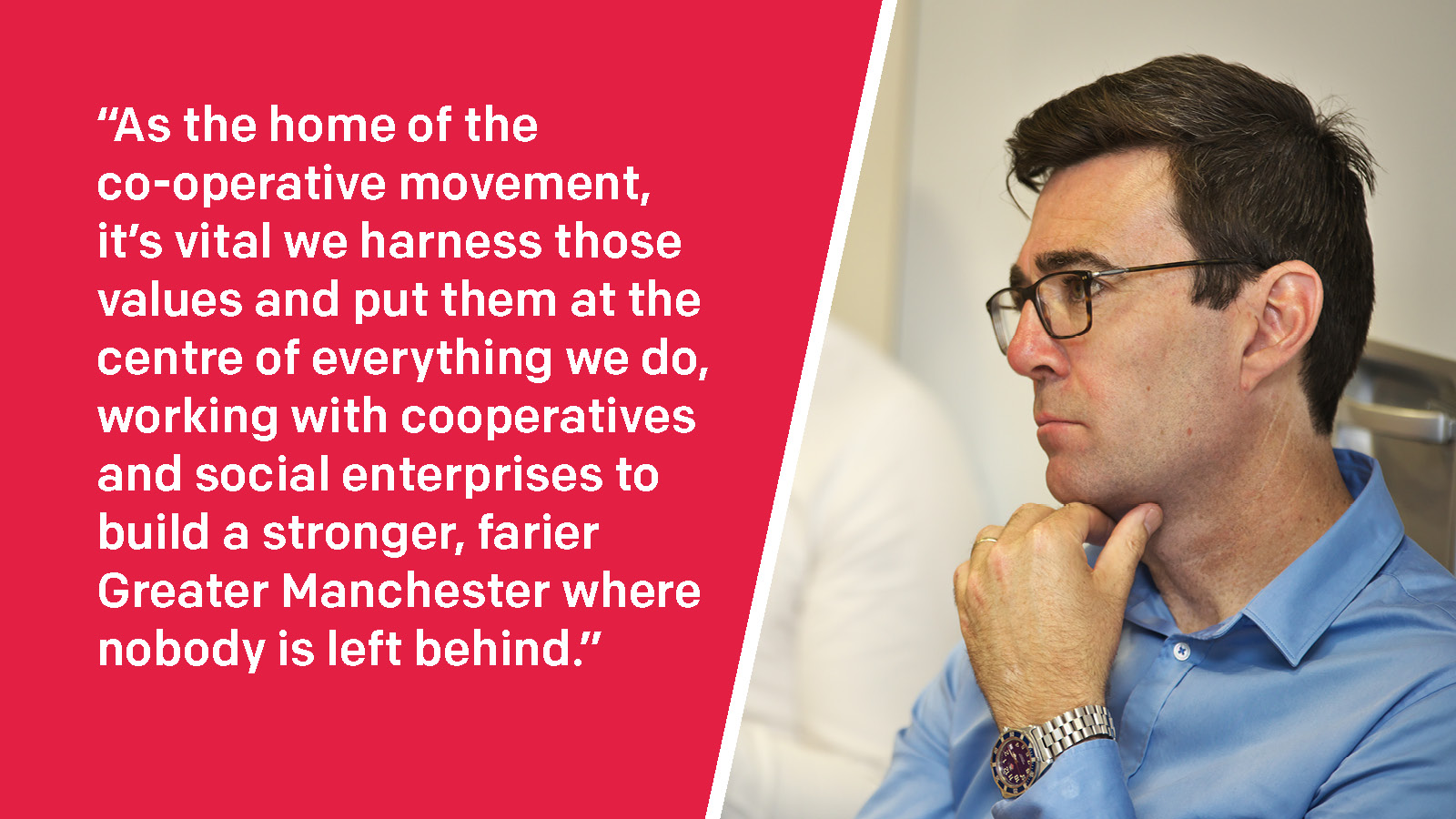 Co-operatives
are businesses that meet the needs and aspirations of their members, who work in, trade with, or otherwise participate in the business, and which contribute more broadly to the common good. Co-operatives are owned and controlled by their members. This includes customer, worker and producer co-operatives, as well as many community businesses and social enterprises. 160,000 people in Greater Manchester are members of a co-operative; collectively providing a turnover to the local economy of over £73million. This activity covers many sectors and includes credit unions providing financial services to communities, ten housing co-operatives, a social housing provider, leisure companies, and retail - including the modern home of the Co-operative Group, the UK's largest consumer owned 
business.
The Commission will focus on four 'opportunities' to develop the co-operative model across Greater Manchester:
Housing

Transport

Digital

Business development
We are also interested in receiving evidence about other opportunities that the co-operative model could apply to, as well as experience from other sectors that can be applied to any of the four opportunity areas.
Call for Evidence
We are keen to hear from those involved in running, setting up or trying to set up co-operatives. We'd particularly like to discover examples of success, innovation and growth, and enablers to success, as well as lessons learnt, and the barriers and pitfalls to avoid.
Each meeting of the Commissioners will focus on a different opportunity. We can receive your evidence up to the final closing date (1 September 2019) and all the evidence we receive will inform the final report and recommendations. However, if you would like your evidence to help inform the Commissioners' meetings please submit it by the following dates:
Housing – Tuesday 16th April
Transport – Wednesday 15th May
Digital – Wednesday 19th June
Business development – Sunday 14th July